Press to Enter Please
03/31/2014
Back To Blog
There is a new, smart way to gain access to your home and office and it's called electronic locks. So, before the next deadbolt installation, perhaps you should reconsider getting plain bolts and invest in something a lot more convenient. Are the new electronic locks better? They certainly are! If you only take into consideration that the old, traditional keys that gave you such trouble with distortions and house lockouts will go out the window, it should suffice. Enter the code and you are in the house. Press one button and your house is locked. It can't get any easier!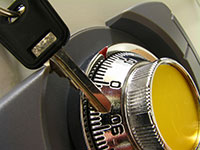 The pros of electronic locks
Electronic security door locks are practical, come out in great designs and offer full security. They have lit buttons for easier access in the dark and provide you with a personal code, which can be changed at your convenience. Is your mother visiting from out of town and you want her to have full autonomy? Grant her a temporary code, so that she can come and go her own way and delete it when she is gone. Do you think it's hard using these door locks? The only thing you have to do is to remember your personal code. You just enter it and you are in.
They can be installed at any door, so let your children try getting into your wine cellar now! If you don't know the code, you are out of luck. This will certainly protect little ones from getting outside without your supervision or getting access to the garage where you keep sharp tools and they can take hold of the transponder key trying out their driving skills!
Let keys get lost now! They will never trouble you again, lock you out or break in the lock. You still definitely need lock repair but this is a necessity with every type of lock. You just have to be too cautious with the codes and don't share them with anyone, not even your children. Of course, you can always change them and that's the good news about electronic locks. It will be like key change but it will be done by you in seconds.